I am driving to the Grand Canyon on a chilled, moonless night. My headlights catch a small structure on a spit of land fronting a dormant volcano. It is the Chapel of the Holy Dove, an isolated sanctuary amidst a woodland of ponderosa pines.
*
I wrench the door open, strike a match, and scan the room. The interior is modest and ascetic, the floor gravel. The rear rises in a glass wall. Garden benches provide seating. I notice shadows of scrawled graffiti interspersed with pieces of paper taped to the low-slung ceiling and stuffed into wooden seams securing the walls. Some are recent, others yellowed by time. They contain writing, most one or two sentences. I read them until all the matches are burnt. They are tragedies of life and scraps of hope, the despaired yearning for the solace of mercy and a time before sorrow.
"Is Mom in heaven?"
"I'm dying. I need a miracle."
"Please make my Dad like he was before."
"Why are my prayers unanswered?"
"The hurt is unbearable."
"Cleanse my mother of sickness."
"Why did she have to die? Our family needs her."
"Today, I was told I am dying."
"Give my Dad a few more months. Please."
"The doctors don't know, only You know."
"God, I believed in you, once."
"Lord Jesus, cure my cancer."
And in a child's crayoned scribble, "God, please let mommy come home from heaven. I miss her. Love, Emily."
I stand in reverent silence; head bowed, shoulders slumped. A ragged sob rolls up from my belly. I collapse on a bench and weep. I have two young daughters; their mother's ashes are in the car, waiting.
I do not leave a note.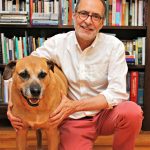 A semi-retired physician, Paul Rousseau (he/his/him) is a writer, lover of dogs, and occasional photographer published in sundry literary and medical journals. Nominated for The Best Small Fictions anthology from Sonder Press, 2020.
Twitter: @ScribbledCoffee